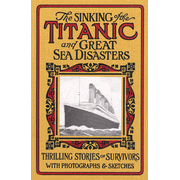 The Sinking of the Titanic and Great Sea Disasters
By Logan Marshall / The Vision Forum, Inc

Here's good news for the revival of the Christian principles that endeavor to put "women and children first." Your students will learn about love, duty, courage, endurance, and hope as they read firsthand accounts of genuine survivors of various tragedies. Includes numerous charts and photos, and exciting interviews direct from the year 1912. A great "read aloud" for the whole family. Large, clear type with illustrations. 355 pages, hardcover.