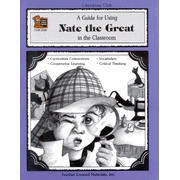 Nate the Great Grades 1-3
By Teacher Created Resources

Nate the Great is a determined young detective, who, with an ample supply of pancakes for motivation and thinking, can easily solve any case through inference and deductive reasoning. His cases involve many of his friends and their pets, who have confidence in his abilities as a super sleuth to resolve their dilemmas. This unit is primarily concerned with the original title, "Nate the Great." Teachers who use this unit guide will find the following features to supplement their own valuable ideas: a sample lesson plan, unit planner, a section on getting to know the book and the author, and suggestions for using the unit activities. The guide is then broken down into two groups of unit activities: one for language arts and the other for math, music, science, social studies, and art. Also included is a culminating activity, a bibliography of related reading, and a special appendix that lists activities for other "Nate the Great" titles. Perforated, reproducible pages. Unit guide only; "Nate the Great" may be borrowed from your local library.