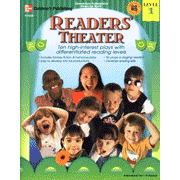 Readers' Theater, Level 1
By School Specialty Publishing

Kids are natural actors! That's why Readers' Theater provides such an exciting way to augment reading enthusiasm and comprehension. This anthology of funny, interesting, and engaging plays is easy to present and sure to tap into your students' love of drama.

The plays in Readers' Theater range from retellings of folk stories to exciting mysteries to humorous fantasies. The parts in each script are written at different levels of reading difficulty. Assign parts according to each of your students' reading abilities, so your best readers can perform right alongside students who find reading more of a challenge.

Many of the plays include stage directions, so you can put on full-scale productions if you wish. But the magic of readers' theater is that plays can be performed effectively without costumes, props, or scenery. With Readers' Theater, any day can be a theater day! Grades 2-5.