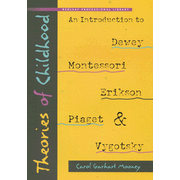 An Introduction to Dewey, Montessori, Erikson, Piaget & Vygotsky
By Carol Garhart Mooney / Running Press Book Publishers

Theories of Childhood is an intensive look at the work of five groundbreaking educational theorists who worked in the area of early childhood care: John Dewey, Maria Montessori, Erik Erikson, Jean Piaget, and Lev Vygotsky. An easy-to-learn overview of one theorist opens each chapter. Author Carol Garhart Mooney then distills their work to reveal how it relates to child care and children. Dewey examines the relationship of curriculum to life; Montessori, the need for carefully prepared classroom environments; Erikson, an approach to making children healthy and comfortable; Piaget, the knowledge of children's thought processes; and Vygotsky, the importance of teachers and peers in learning. This book is perfect for several teaching contexts: undergraduate programs, community college courses, training workshops, or to help keep your program's staff aware of the theory behind good child care practice. Paperba ck.