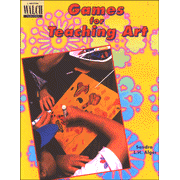 Games for Teaching Art
By Sandra Alger / Walch Publishing

Teaching art through games allows group participation and learning to happen at the same time. Four kinds of games are explained, with detailed directions and supplies lists for 24 enjoyable, educationally sound games that cover art history, criticism, aesthetics, and art production. The primary goal is to actively involve students in considering and discussin art works, with role-playing and problem-solving activities. 67 pages. Adaptable to various age levels.