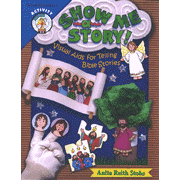 Show Me a Story: Visual Aids for Telling Bible Stories (PreK-2nd Grade)
By Anita Reith Stohs / Concordia Publishing House

When children combine visual and auditory experiences, they remember more and they remember it longer. This book helps teachers enhance and encourage learning through classroom-tested storytelling techniques for Bible stories. Included inside are 28 story-telling ideas that introduce a Bible lesson or apply a gospel point, along with an extensive introduction that offers tips, pointers, techniques, and suggested materials.

Features:
Story scripts that can be tailored to any classroom size, style, and reading level.
Simple patterns and easy-to-follow directions for storytelling kits and props.
Closing prayers and songs.