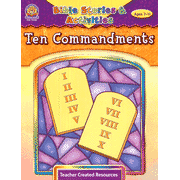 Ten Commandments, Ages 7-11
By Mary Tucker / Teacher Created Resources

Use ten comprehensive lessons to introduce children to the Ten Commandments. Stories, discussion questions, and memory verses are accompanied by puzzles, crafts, songs, rhymes, and other activities to help children discover important truths about each commandment. Softcover, 48 pages.