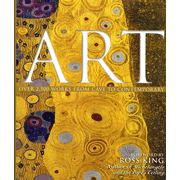 Art: Over 2500 Works from Cave to Contemporary
By DK Publishing Inc.

Comprehensive in scope and scale, this gorgeous DK ART book provides a visually rich journey through humanity's development. Beginning with a short section of how artists use color, composition, light, shade and other technical elements of art, each art movement and school is detailed with more than 700 artists from all periods and cultures profiled. Picture-packed pages allow you to examine key examples of their work and see how they changed over their lifetime. Close-ups of famous artwork also allow the reader to analyze the creation of these masterpieces with graphics, overlays and highlighted detail. Chronologically organized from prehistory through contemporary art, traditional painting and sculpture work is included alongside masks, goldwork, carvings, panels, and other forms of artistic expression. 612 pages, indexed, hardcover with dust jacket.