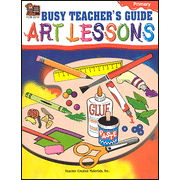 Busy Teacher's Guide: Art Lessons, Primary
By Michelle M. McAuliffe / Teacher Created Resources

Busy Teacher's Guide Art Lessons for primary grades is full of creative arts and craft projects. Each lesson includes the stated purpose of the lesson, a brief art history bio., materials list, suggested variations, detailed procedure instructions, and assignment choices. At the close of the lesson is the Connection, which ties the lesson together with the stated purpose and the cited artist. Illustrations, though in black and white, are very helpful. This is intended for primary grades and is suited for home or school classroom.