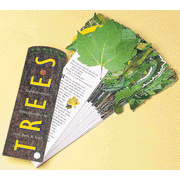 Fandex Field Guide: Trees
By Workman Publishing

Sturdy oaks, flowering dogwoods, brilliant red sugar maples . . . America's trees are part of our God-given heritage. This colorful fold-out "deck of knowledge" teaches kids to identify 50 trees by their leaves, bark, seeds, flowers, and fruits. They'll even discover the cultural history of each tree---from the California Redwood to "the tree that grew in Brooklyn."