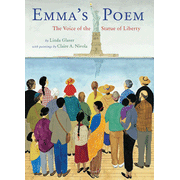 Emma's Poem: The Voice of the Statue of Liberty
By Linda Glaser / Houghton Mifflin Books for Children

Give me your tired, your poor, your huddled masses yearning to breathe free."

Every schoolchild in America has heard Emma Lazarus' poem and sees the State of Liberty as a beacon for incoming immigrants. But when Emma Lazarus wrote her poem, the Statue of Liberty, then being designed in France, didn't have anything to do with immigrants yet. This fascinating picture book tells the story of Emma's care for immigrants as well as the impact her poem would have on the new statue-and the people who passed under her torch. 32 pages, hardcover with dust jacket.