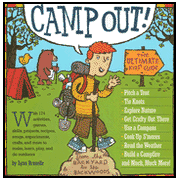 Camp Out! The Ultimate Kids' Guide
By Workman Publishing

Truly the ultimate kids' campout guide, this book is packed with tons of camping facts and full of fun. It covers all the basics, such as planning for a trip, packing the right gear, and setting up camp, along with awesome skills like knot-tying, trail marking, animal tracking, weather forecasting, navigating from maps and compasses or from nature, and more! There's even a guide to great recipes and fun foods for good eating in the great outdoors. And with tons of outdoorsy arts and crafts to do, experiments and projects to try, campout fun and games to play, songs to sing, stories to tell, and stars to study, you'll have a great time camping, day or night, rain or shine!

Please Note! This book teaches the Big Bang Theory.