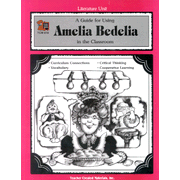 Amelia Bedelia Grades 1-3
By Teacher Created Resources

Amelia Bedelia is a housekeeper who does things exactly the way the words say. She has been entertaining young readers since 1963 and teaching them that sometimes words have more than one meaning. Teachers who use this unit guide will find the following features to supplement their own valuable ideas: a sample lesson plan, a unit planner, a section on getting to know the book and the author, and suggestions for using the unit activities. The guide is then broken down into two groups of unit activities: one for language arts and the other for related curriculum. A bibliography of related reading as well as an appendix that suggests activities for each book in the "Amelia Bedelia" series is also included. Please note that this unit is primarily concerned with the original title, "Amelia Bedelia." Unit guide only; "Amelia Bedelia" may be purchased through CBD (stock #41555) or borrowed from your local library.