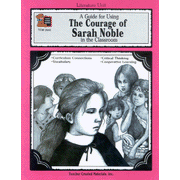 The Courage of Sarah Noble Grades 1-3
By Teacher Created Resources

"The Courage of Sarah Noble" details the true story of an 8-year-old girl who, at the turn of the eighteenth century, accompanied her father on a journey from Massachusetts to Connecticut. Teachers who use this unit guide will find the following features to supplement their own valuable ideas: a sample lesson plan, unit planner, a section on getting to know the book and the author, suggestions for using the unit activities, and notes on Native Americans in Connecticut, circa 1707. The guide is then broken down into two groups of unit activities - one for language arts and the other for science, math, social studies, art, physical education, and technology. Also included are culminating activities, a bibliography of related reading, and an answer key. Perforated, reproducible pages. Unit guide only; "The Courage of Sarah Noble" may be borrowed from your local library.