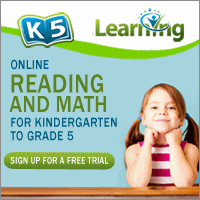 Garden of Praise has recently partnered with K5 Learning to introduce you to a new learning system which can be valuable to you in providing extra help and tutoring for your child after school, or can be integrated into your homeschool curriculum.

The program includes a free assessment of your child's skills, a personalized program of study, and free reports to parents. Five key reading skills and three math skills are assessed. There are thousands of educationally sound activities to remediate weaknesses.

There is a 14 Day free trial period and no credit card is taken until you sign up for the course.