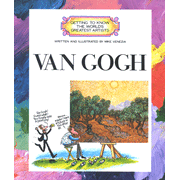 Getting to Know the World's Greatest Artists: Van Gogh
By Grolier Publishing Company

Get aquainted with the world's greatest artists' in this kid-friendly introduction to Van Gogh. His biographyis accompanied by cartoon drawings that highlight different aspects of his life, while reproductions of his famous notesand artwork give kids' exposure to his style of painting. 32pages, softcover.