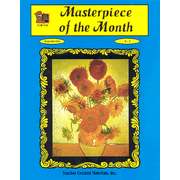 Masterpiece of the Month: An Art Appreaciation Program for Grades K-5
By Jennifer Thomas / Teacher Created Resources

Expose your students to a new masterpiece each month with this comprehensive art program. Students are exposed to famous masterpieces as they learn about art techniques which are they incorporated into their own art activities. Activities use common art supplies and highlight the variety of artistic styles and methods. Each lesson includes objectives, vocabulary, materials, process, art evaluation, and drawing of that month's masterpiece. Lessons are grouped according to grade level. 96 reproducible pages, Grades 1-5.