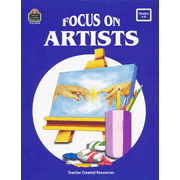 Focus On Artists, Grades 4-8
By Teacher Created Resources

Art broadens horizons and allows children to see and evaluate are as they see art as a piece of individual human expression. Students will learn about famous and not-so-famous artists as well as the historical periods in which they lived--Renaissance & Baroque, 19th Century and 20th Century. Each lesson provides an overview with the focus, activity and vocabulary words; the lesson includes a materials list and instructions. Extensions activities and an introduction to each artist are also included. 112 reproducible pages, softcover. Grades 4-8.