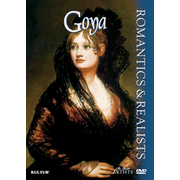 Goya DVD
By Kultur International Films

In 1792, a famous Spanish portraitist fell victim to an illness that left him permanently deaf. This was the event that proved the turning-point in the career of Francisco Jose Goya y Lucientes. Trapped in his silent world, Goya's portraiture climbed to new heights of achievement, but it was his increasingly dark images that are most appreciated today. The sheer horror of much of Goya's later work was unprecedented in Western Art, and it is these paintings and etchings that secure his status as a giant of the Romantic Age.

As this fascinating program reveals, Goya's own time gave him additional inspirational inspiration for his images of terror. The bloody war between his own homeland and Napoleonic France inspired The Third of May, the greatest canvas of his career. The continuing existence of the Spanish Inquisition also provoked Goya to create timeless works. Not even his own persecution by the Inquisition's officers could prevent Goya from painting masterpieces into the ninth decade of a remarkable life. Running time: 50 minutes.